Hardscape Services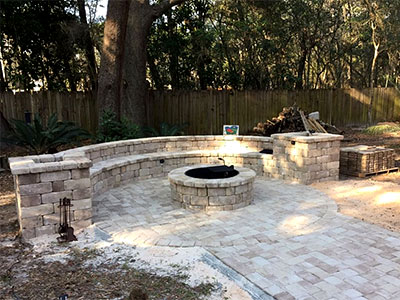 We at Rou Pavers are one of the leading companies in the hardscaping space and have created a distinct niche for ourselves in the industry. Our company has handled a significant number of hardscape installation projects for clients in and around Pensacola, Golf Breeze, Pace, and Milton.

Our experts have designed and constructed impressive features on properties in Navarre, Navarre Beach, as well as Pensacola Beach. We are ICPI-certified installers and clients from across Fort Walton Beach, Baldwin County and the surrounding areas trust only us for all their hardscaping requirements. The different services we offer include:


Driveways
We are the experts that can provide excellent paver driveway installations. You can choose from concrete, stone, or brick paving for the driveways and all of these materials are extremely strong and durable. The maintenance of these features is easy and they last for a very long time without any trouble. You can choose from paving of different shapes, sizes, textures, patterns, and colors. This means your driveway can have a very unique and attractive appearance. Read More About Driveways »


Patios
A patio is an integral feature in many landscapes and needs to be built expertly. It is a transitional space between the indoor and exterior areas of your property and we take care to ensure that the patio installation complements the look of your home as well as the landscape features. We can use brick, natural stone and concrete pavers for these projects and can create various designs and patterns on the floor. These pavers look great as an outdoor kitchen flooring as well if you plan on getting this feature for your property. Read More About Patios »


Walkways
Walkway installations in a landscape allow you to navigate across lawn areas or spaces where there are plantings and flower beds. We will plan and design walkways and install them at strategic points in various parts of your landscape. These installations provide a firm and stable floor surface to walk on. You can also access all the different areas of the landscape without having to trample on the turf and flower beds. You can opt for brick, natural stone or concrete pavers and can choose from a range of colors, shapes, sizes, and designs. Read More About Walkways »


Retaining Walls
If you want to construct any outdoor features in the landscaped areas of your property that have sloping land, a certain amount of excavation and leveling work will have to be done first. When any slope is dug out, you need to ensure that the exposed areas have some support and retaining walls are constructed at these spots to provide that support. These walls are made of concrete masonry units and many retaining wall systems also mimic the appearance of natural stone. Read More About Retaining Walls »


Pool Decks
Pool areas see a lot of water and regular wear and tear and when you are planning on a deck installation there, you need to make sure that very high quality, durable materials are used in the work. We can custom design pool decks for you and can choose from single level or multi-level installations. These decks can be made of paver stones, concrete or composite, and wood. The design and styling of the decks will complement the look of the rest of the landscape and you can rest assured that the installation will be completed expertly within the committed timeframe. Read More About Pool Decks »


Tile
When it comes to outdoor flooring installations, you need to make sure that the materials you use are able to weather the elements and tiles are a great option for many outdoor applications. They can be used on pool decks, patios, decks as well as walkways and more. You can choose from tiles of different colors, textures, and designs to create unique looking areas in your landscape. Read More About Tile »


Flagstone
Flagstone is widely used in landscape projects. This natural stone is available in a range of colors such as red, yellow, natural light grey, sand, charcoal grey, moss green, as well as brownstone etc. This helps you can create the kind of look you want on your property. You also have the option to use a combination of different colored stones to create the designs and patterns you want. This stone is very strong and durable and easy to maintain. Read More About Flagstone »


Pergolas
Pergolas are elegant and simple structures can be easily installed in any area of your landscape. We can custom design and construct one for your yard, patio, or deck. This feature can be constructed adjacent to the exterior wall of your home above your patio or deck. Alternatively, it can just be a standalone structure positioned in any other area of your yard. You can choose from timber, vinyl or aluminum pergolas based on your needs and preferences. Read More About Pergolas »

If you are looking for driveway installation contractors that will cater to your specific needs and give form to your ideas, we are the company to come to. For any more information on our services and paver driveway cost, feel free to contact Rou Pavers at 850-791-5641. You can send us your project details via this Contact Us form or request a free estimate and one of our experts will get in touch with you shortly.
Cities that are served in Florida (FL):